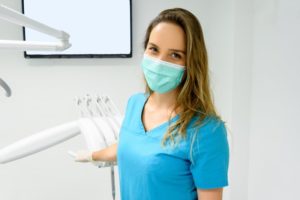 Are you looking to become a Dental Assistant? That's fantastic! With the right education, training, and experience, you can achieve a career as a good Dental Assistant. However, if you want to become a great dental assistant, you'll need to have the right personality and mindset. Read on as we cover the top 10 qualities of successful Dental Assistants who stand out in their field!
1.) Top Notch Organization Skills
Dental offices are fast-paced and constantly changing, so you need to be ready for anything. Excellent organization skills are essential for staying prepared and keeping the office running smoothly.
2.) Keen Attention to Detail
If you're interested in any job that involves a patient's well-being, keen attention to detail is important. From ensuring that tools are properly cleaned, records are correct, and monitoring if a patient is nervous or in pain, being detail-oriented will help you keep your patients safe.
3.) Capable Multitasker
As a Dental Assistant, you'll be handling a wide range of tasks at any given moment. It'll be up to you to stay calm under pressure and successfully complete all the responsibilities thrown at you.
4.) Good Dexterity Skills
When you assist the dental hygienist or dentist, you'll need to be able to work in a tight space in a small part of the body. You'll need good eyesight and precise control over your fingers to ensure you complete your tasks effectively.
5.) Professional Demeanor
You'll often be the first and last person a patient interacts with during their appointment, so having a calm, friendly, and professional demeanor is essential for portraying your practice in a good light.
6.) Strong Communication Skills
Whether you're speaking with patients, your team members, or third parties outside the office, you'll need to be able to communicate clearly and effectively in numerous ways.
7.) Excellent Listening Skills
Not only is being a good listener a part of being a great communicator, but Dental Assistants need to be able to truly listen to and understand their patients, as well as the instructions given to them from a dentist or dental hygienist.
8.) Compassion & Patience
Since about 60% of the population has anxiety about visiting the dentist, you need to be capable of handling these patients accordingly. Compassion and patience are essential for helping all types of patients feel relaxed and comfortable during their visit.
9.) A Desire to Help
You shouldn't consider becoming a Dental Assistant if you aren't passionate about helping. You'll need to be driven by wanting to help patients and helping the dentist you're assisting to perform top-notch work.
10.) Resilience
It's no secret: as a Dental Assistant, you will undoubtedly face unhappy patients, frustrating situations, and bad days. Those who are resilient and committed to giving 100% will be able to take these situations in stride.
Do you have what it takes to become a great Dental Assistant? You can make a difference and change people's lives for the better.
About NE Dental Academy
If you're ready to take the next step toward becoming a great Dental Assistant, then call NE Dental Academy. Our accredited program is designed to give you the training and knowledge you need to succeed and find a fulfilling career. To learn more about our program and get started today, visit our website or call (508) 392-5314.