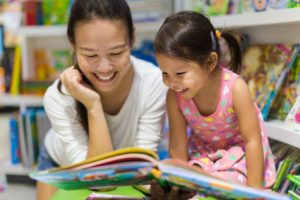 If you're a mom trying to support your kids with a meaningful but flexible career, you no doubt already know that balancing a career and home life can be a challenge! Fortunately, countless mothers have found they can have a job they love, earn a good income, and still spend as much time as possible with their children by following a career path in dental assisting. Thousands of dental assistants are employed every year, and dental programs and schools offer dental assistant training to fast-track your goals. Read on to learn three great reasons why a career in dental assisting is a great choice for moms!
1.) Less Restrictive Educations Requirements
Unlike other careers, you won't need to spend years in classrooms to prepare for dental assisting. Instead of sacrificing valuable time with your kids and your ability to simultaneously earn a regular income, dental assistant training courses can typically be completed in a matter of months. Plus, many programs allow you to complete your training at your convenience, so you can create a schedule that works for you and your family. While there are specific requirements that vary by state, they are usually quite doable for busy moms. The less time you need to spend on your education, the sooner you can begin your career as a dental assistant!
2.) More Flexible Working Hours
While many dental assistants work full time, that isn't your only option. Many practices also offer part-time positions, making your work/life balance much easier to achieve. If you need to rearrange your schedule in order to pick your kids up from school or be home at a specific time, that usually won't be a problem. Just like how most dental assistant training courses are often flexible enough to fit your scheduling needs, most dental practices will work with you to accommodate your needs. Instead of working late in a traditional office and missing out on family time, you can enjoy your dynamic career as a dental assistant while keeping your commitments to your family.
3.) Low Work Stress
Your job as a mother is already stressful enough. You shouldn't have to deal with a job that puts you in an environment filled with high stakes, tight deadlines, and demanding projects. Not only can these factors of a traditional job keep you late at the office, but the stress oftentimes will follow you home as you try to enjoy your time with your kids. While the work you'll be doing as a dental assitant will be important, it won't be life-threatening. It also isn't likely to follow you home or keep you late at night. Plus, with increased job security and important health benefits, you'll be able to focus more on what really matters to you.
If you're looking for a career that will work with your life as a mom, a career as a dental assistant may be the perfect opportunity for you. Reach out to your local dental school or program today to learn more!
About the Practice
If you're interested in finding a reliable and efficient dental assistant school for moms, look no further than NE Dental Academy! Whether you're a mom, high school graduate, or simply looking for a change in your career, our program is for everyone. We'll help you every step of the way towards your license as a dental assistant, from filing the paperwork to preparing for your exam. To learn more about our program, don't hesitate to contact us online or at (508) 425-6644.