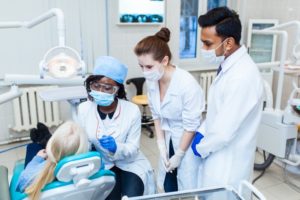 Will you be graduating dental assistant school soon? Have you recently begun your career as a dental assistant? In either case, your learning journey doesn't end at graduation. Many dental assistants choose to complete continuing education (CE) to propel their careers forward and improve their skills. Read on as we go over three important reasons you should consider completing CE as a dental assistant.
More Opportunities for Professional Growth
Not only will continuing education make your résumé stand out in a crowd, but it will help you in practice as well. This additional training will help you demonstrate your knowledge in a dental setting and excel at your duties. As such, you may be trusted with more responsibilities and expanded functions. Alternatively, you may stretch into a different role, such as infection control coordinator, dental office manager, dental assistant educator, and more! Continuing education is also a requirement for renewing your state dental assisting license or registration in some places, so you should take any continuing education opportunity that crosses your path.
Renewed Passion for the Profession
The more you learn about dental assisting, the more you can engage in it. Learning and successfully competing coursework will encourage you to remember why you wanted to become a dental assistant in the first place, and to learn even more about what this career can include. Your motivation in your training will undoubtedly transfer over to your role as a dental assistant and inspire you to be the best that you can be.
Enhanced Overall Value to the Practice & Patients
Perhaps most importantly, dental assistants who complete CE bring more value to a dental practice and their team. You'll be better equipped to contribute to the profitability of the practice and the positive experience of the patients. In recent studies, 86% of dentists and dental office managers felt that continuing education is critical to maintaining the honed and important skills of a dental assistant. Plus, your dedication to learning more about your craft will help you learn how to communicate with and teach patients about oral health, which is an important part of a dental assistant's job.
If you're still attending dental assistant school, talk to your instructors about their experiences and recommendations for continuing education. They can help you navigate your options and point you in the best direction to go according to your unique needs and preferences. The right dental assisting school will help you every step of the way on your journey towards a meaningful career!
About the Practice
NE Dental Academy is proud to offer a comprehensive and accredited training program that will give you all the knowledge you need to begin thriving as a dental assistant. You will learn all about the different equipment and responsibilities of someone in your field, and we'll guide you through various certifications and trainings. If you'd like to learn more about continuing education for dental assistants, don't hesitate to get in touch with us online or at (508) 425-6644.